2019 New plans for historic bell
21 Mar 2019
Church submits DA for century-old bell
A CENTURY-OLD bell could soon become a prominent feature of the oldest continually operating Catholic church on mainland Australia, with plans to move it to the front of the Windsor building. St Matthew's Catholic Church has lodged a development application (DA) with Hawkesbury City Council to place its 108-year-old bell on display at the front of the church building.
The bell was originally cast in 1911 and was housed in a wooden structure at the back of the church, St Matthew's volunteer Vince Rayfield explained. "The bell is stamped John Danks and Sons, a fairly reasonablywell known foundery and engineering company in Sydney and Melbourne," Mr Rayfield told the Gazette.
"They cast the bell in 1911. It was originally installed into a timber structure at the back of the church.
"It was rung officially before all masses, and unofficially by a number of naughty school children."
The timber had deteriorated badly by the 1960s and the bell was then placed into a more robust steel tube structure, where it remained until last year when construction of a new classroom for the adjoining school meant it it had to be moved.
"It was taken off the structure and refurbished by the school, and it sat there until we decided what to do with it," Mr Rayfield said.
Following a "rigorous" discussion over the bell's future, the parish council and finance committee recommended it be housed in a new structure at the front left hand side of the church, where a shrubbery currently exists.
Vince Rayfield proposal then went before the Parramatta Diocese due to the estimated $40,000 cost of the plans. The Catholic Education Office will fund the project. Hawkesbury heritage architect Graham Edds worked on the proposal to be included in the DA. If the DA is approved, the parish wants the bell to once again be used to herald masses
"It's quite an impressive looking thing, it must be a couple of hundred kilos," Mr Rayfield said.
Established in 1832, St Matthew's Catholic Church was blessed and opened by Bishop Bede Polding in 1840 and is the oldest Catholic Church in continual use on mainland Australia.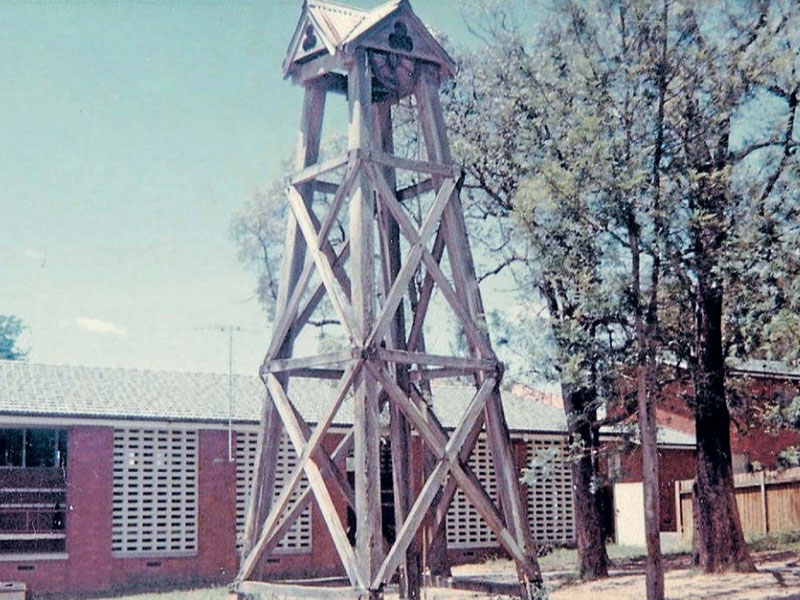 St Matthew's Church bell on its original stand in the school playground, at the rear of the church. Picture: Judy Newland.
Facebook
04 Feb 2023

🎉 A Fabulous First Week! 🎉 It has been just wonderful to have everyone back at school and ready to learn. These smiles say it all!

31 Jan 2023

🍎 Welcome Kindergarten 🍏 Have you ever seen a new Kindergarten class more loved and supported by their community than this? Today we welcomed our new Kindergarten students with a special prayer as they begin the next step of their learning journey with us. They sang songs, played games and even did some writing during the day before everyone left with a smile in the afternoon. We can't wait to see you again tomorrow!